Everywhere you turn today, you see the work of a skilled mason: In office buildings, homes, schools, factories, municipal buildings and even the mall. The Art of block and brick laying, tile setting, concrete finishing, and stone setting are all components of the trowel trades, more commonly called masonry.
The Massachusetts Trowel Trades Association, also known as the MTTA, was started in 1998 by the masonry instructors that actively teach in Massachusetts Vocational Schools. Today we have six participating schools.
Baypath Regional

Greater Lowell Tech

Monty Tech

Essex Tech


Shawsheen Valley Tech

Whittier Tech
The MTTA was formed to aid and help fund schools' new and existing programs. Amongst us, we have the entire masonry curriculum that has been aligned with the DOE Frame Works.
We have support of many masonry suppliers around the state whom are very generous with donations which aid in teaching our students.
The Association has a monthly meeting and all masonry instructors are encouraged to attend. It gives everyone opportunity to share what they are working on, and brain storm future projects.
We organize a yearly masonry contest that is hosted by a different school within our association.
Our organization is committed to the training of highly skilled students in all aspect of the trade. Our programs conform to the ever changing demands of the industry while still maintaining the highest standards of craftsmanship.
Please contact me if you're interested in forming a masonry program at your school. We're here to help!
Dave Collins
President MTTA
2018-2019 MTTA Board of Directors
President - Dave Collins
Vice President -Larry Bradley
Treasure - Dan Hagan
Secretary - Tim Lavoie
Do you have anything you'd like posted on our Website?
The Winners are in!!!
This year's student Hardscape

Competition held Wednesday, May 8th at Whittier Tech,

and the winners are...

and

Thank you to Whittier Tech for hosting!
For more information please see the
events page.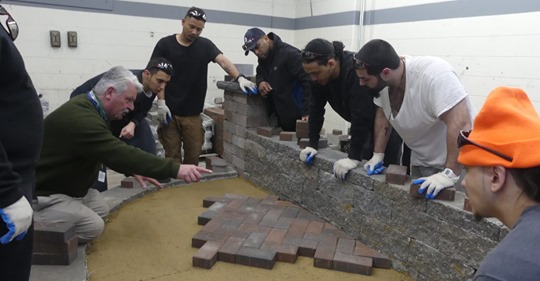 Congratulations to the
1st Graduating Group!

Captain Pete Cignetti of the Essex County Sheriff"s Department reached out to our own MTTA President Dave Collins this past summer asking for help in developing a ground breaking Vocational Program in which to train Pre-Release Inmates from their center in Lawrence, MA . Participants were instructed by Mr. Collins, a full time Masonry teacher at Essex Tech in Hawthorne, MA in Hardscaping which includes concrete pavers with some light masonry.

E.C.S.D.

Grant Writers Leah Harrington and Gary Barrett were vying for four available Perkins Grants which would enable the program to run four times a year.
The graduation ceremony was held recently at the Essex County Correctional Alternative Center (the Farm) in Lawrence. Essex County Sheriff Kevin Coppinger noted upon graduation, inmates receive a industry-recognized credential certificate from the New England Concrete Manufacturers Association.

Instructor Dave Collins said the program is "exactly what's needed" to provide the inmates a skill of their own in a tight labor market. He said it was a pleasure to work with the group who "gave 110 percent every day".

NCMA (National Concrete Masonry Association) played a key role by freely providing technical information that we used to develop curriculum that helped the department bid in applying for the money to fund the program through the Perkin's Grant.
"In many ways this type of program promises to have a more immediate impact by adding to a much needed workforce far quicker than a two or four year program taught in a traditional education institution."
Larry Nicolai